Warsaw Management University
, established in 1995, is one of the oldest private colleges in Poland. Currently it enrolls more than 6.000 students and has more than 37.000 graduates. Its faculty consists of experienced and creative researchers and lecturers.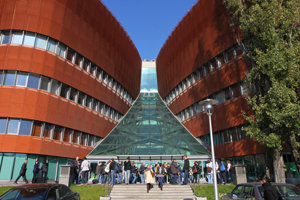 Warsaw Management University offers its prospective students exceptionally favorable conditions to study in the Campus of the Third Millennium. It is a well equipped architectural academic complex housing numerous lecture rooms, laboratories, computer rooms, and language laboratories.
The University complex features also recreational facilities, such as a modern swimming pool, a sports hall, and a gym. In the building there is a buffet and a large cafeteria .Reasonable prices and good menu should satisfy even those difficult to please. Student dormitory accommodates 300 students in single, two-person and three-person rooms as well as suites. All the rooms have access to the Internet . An underground car parking is available for a reasonable price.